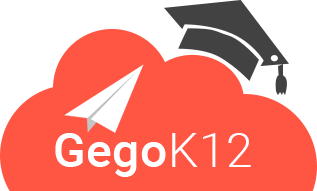 Complete Cloud School Management Software
A robust platform for School Management and school communication management
GegoK12 is a modern best-in-class Advanced School Management Software, crafted with Cloud Technology to effectively manage all School Operations and effortlessly communicate with Parents and Students through Mobile App.
GegoK12 is an advanced School Management Software designed for Indian Schools. The software includes a web based control panel for school administrative people. Teachers has web control panel and Mobile App. Students can access through Student Web Portal. Parents are connected through Parent Mobile App.
A robust platform for School Management and School Communication Management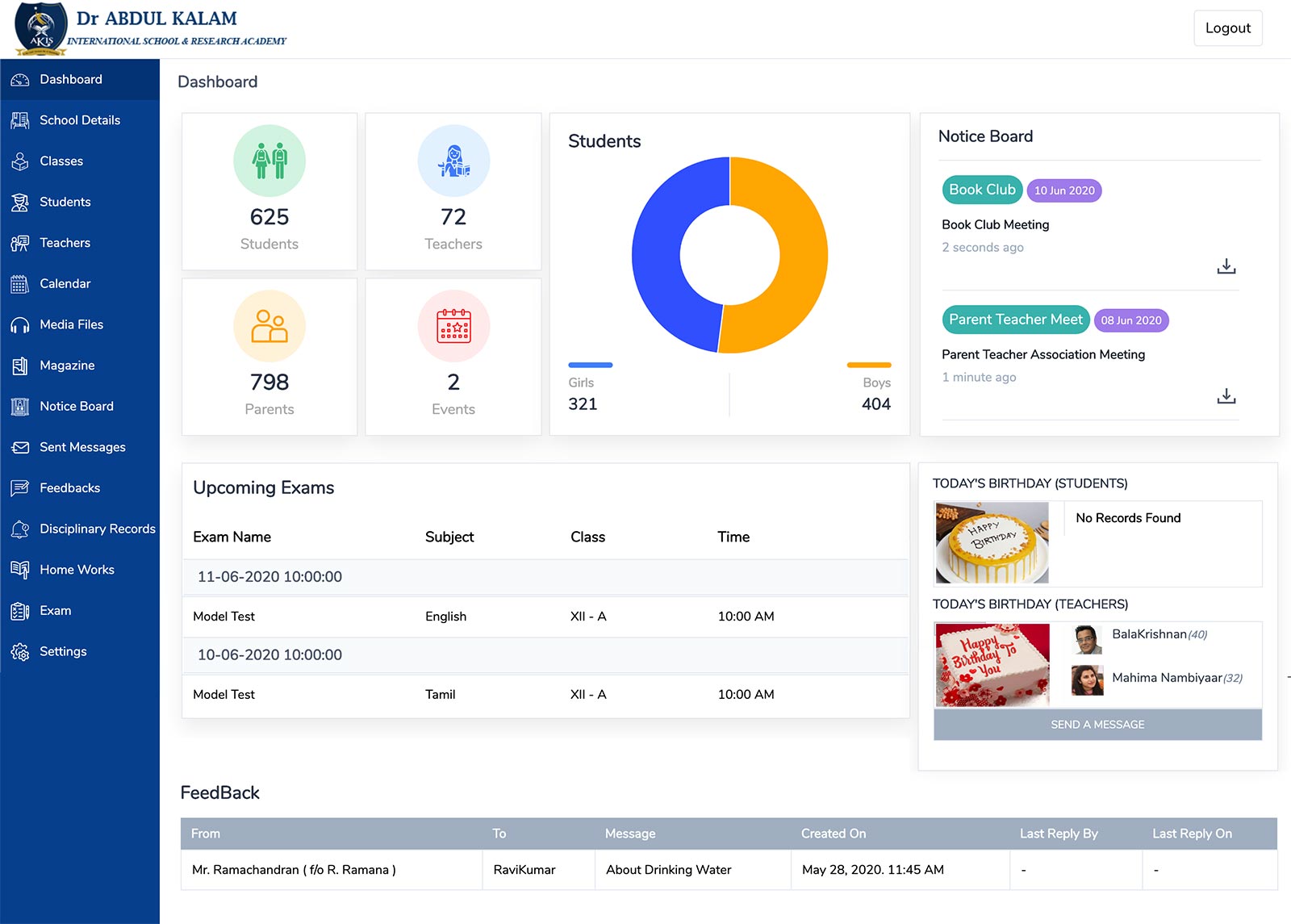 Searchable Student Records
Search or Browse the students by Class, by Name, or by Locality.
Export / Import Student Data
Simply Import or Export Student Data to CSV format.
Teacher / Staff Records
Organize the Teacher and Staff Records as an easily searchable database.
Activity Logs
All app-related activities and data updates are logged.
Classroom Management
Student Data organized by Classes for effective record keeping and day-to-day management.
Homework / Assignment
In a simple click give homework to students and update it to Parent & Student Apps.
Timetable Management
Publish the timetable for the Class Room for easy access to parents & students.
Exam Scheduler
Schedule Exams ( Term Exam or Class exam) per class or all classes and update it on Calendar.
Integrated Calendar
All events (including exams) are auto-created in Calender for effective presentation and reminder settings.
Notice Board
Admin can publish notice boards, with publishing & expiry dates, for Teachers Group, Classes, or Full School.
Mark Entry
Teachers simply import the Marks through excel sheets. Marks auto-published and auto-graded.
Grading System
The system supports Scholastic and non-scholastic grading systems. Custom grading systems also can be added.
Report Cards
With a simple click publish Standard Report Cards as Printer Friendly PDF and auto-publish to Apps.
Disciplinary Records
Record the incident and actions taken towards the Disciplinary of a particular student.
Academic Year
All academic data are grouped under Academic Year for effective data management and record-keeping.
Promotions
The promotion module lets you populate the academic & student data for the upcoming academic year.
Ready to Upgrade Your School
Our friendly and experienced tech advisor will guide you on how to setup the School ERP System. The advisors will show you the demo of the software and answer all your questions. Book a demo session.
Popularly Searched for : gegok12, school erp madurai, school management software india, school administrative software, school erp india, student attendance app, school database management system, school management software, online school management software, online attendance app, school management system software, school erp, school management system, school portal software, parent mobile app, teacher mobile app, time table design, teacher information system, automatic certificate generator, education 4.0, biometric attendance report, school fees payment online, smart student app, school website, payroll management system, classroom teaching methods, apps for online classes, vidya erp, admission management system, zoom live classes, timetable for students, remarks for students, online classes app, school marksheet design, parent portal, online school software, library management system, google classroom attendance, attendance report, best online class app, school report card format, school app for parents, student attendance register, education management system, student information system registration, school mobile app, school timetable, attendance management system, best school management software, online school erp, school id card format, online school fee payment system, marksheet design, student management software, smart education, alumni management system, best free app for online teaching, google online classes, student erp, smart teacher app, school information system, school assignment, report card format, smartschool, attendance management software, student portal, school portal, leave application for teacher, virtual classroom app, education apps in india, school bonafide certificate, k 12 education, student information system ap, app for teaching online, student fee management system, education management information system, smart classroom, educational websites, time table format, id card design, smart school app, school id card design, virtual classroom software, online attendance, student academic management system, student information system, student information management system, student database, payroll management software, student management system, digital learning, transportation management system, attendance management, advantages of virtual classroom, online teaching app, biometric attendance software, online education vs traditional education, k 12 school, online attendance system, teacher portal, hostel management, hostel management system, institute management system, school certificate design, sis student information system, student profile system, school education website, student attendance management system, smart school management system, biometric attendance device
GegoK12 - School Management Software - Usecases Served