Simply the student attendance-taking process and give the real meaning to attendance data.
School Attendance Tracker App
Attendance Tracker App – GegoK12. Recording the attendance of the students every day is a key task for a Class Teacher. It is time taking process. An attendance taker app for teachers makes it easy to record the attendance data and also communicate the absence of students to the parents.
Attendance taker
Students Attendance Taker App. With inconsistencies in the school attendance tracking system, GegoK12 gives a solution to track attendance in classes accurately. By installing this software as an entire management for your school, you can easily take attendance without any errors in the classes.
Notification
Once the tool accesses a class attendance, it will then send the record to the parents of every individual student as notification on their device. Through this parents will be aware whether their child attended school or not.
Benefits of Attendance Taker App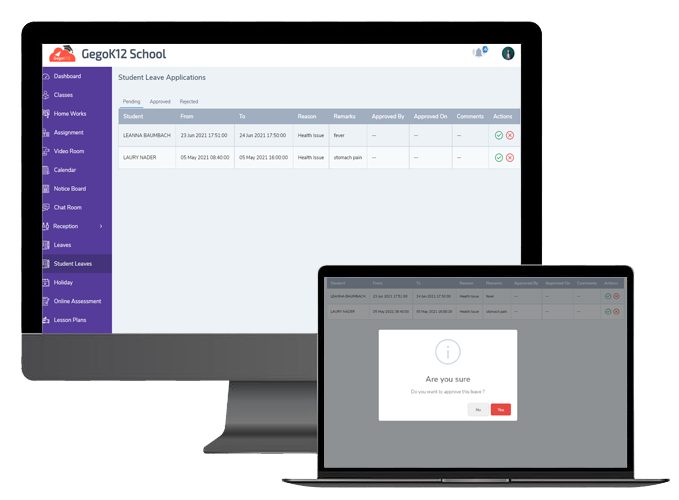 Keep Informed
The notification system build in attendance tracker app notify the absence of student to the partent via Push Notification. SMS alerts also can be set. This keep the parents informed about the absence. 
Enforce Compliance
Classroom attendance is the key metric. It is important for school administration to ensure the proper recording of student attendance. The Attendance Take Mobile app make it easy to enforce  the compliance. 
Automated Process
Taking the student attendance, updating it to School Administration team and updating the absence to Parents are automated. Just record the attendance, the notification system will do the rest.
Track Absenteeism
Having the accessable attendance data helps the teachers to easily track the absenteeism. If any pattern or worrying trends on absense, it can be easily communicated to the parents.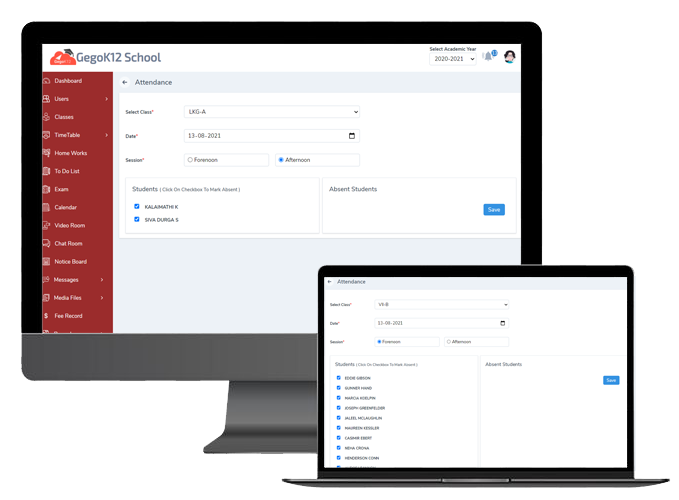 Frequently Asked Questions?
What is Attendance Taker App ?
Attendance Taker App is a utility mobile application that helps the teachers to record the daily attendance of the classroom easily. It also notifies the parents about the absence of the student.
How Attendance Take App Notifies the absence of the student ?
GegoK12 Attendance Taker App is part of GegoK12 – School Management software. It is seamlessly connected with the parent app. When the teacher enter the student as absent, the data is pushed to Parent Mobile App as Push Notification.
What are the other options available ?
Being the data is recorded promptly, it is possible to update the admin dashboard and also view the recent absence record of the student on the go.
Ready to Upgrade Your School
Our friendly and experienced tech advisor will guide you on how to setup the School ERP System. The advisors will show you the demo of the software and answer all your questions. Book a demo session.
GegoK12 - School Management Software - Usecases Served