The reception module streamlines the Nonadministrative work in a structured manner.  It enhances proper record of contacts, visitors, Postal receive and despatch etc
Keep communication intact with reception module
The receptionist is always cramped with work. It is hard enough to find a good admin staff to keep the reception area active. During busy hours even a multi-tasking individual struggles to manage systematically. Why worry a lot when the School Management Software GegoK12 is inbuilt with Reception Module.  Reception is an important area in the workplace so is in the software as well. This module makes the admin staff's work manage in an easy peasy way. The different tasks the receptionist manages are
Importance of Reception module
Inbound and outbound calls
Leave application from staff and students
Enquiries /queries /clarifications etc
Benefits of Reception plan module
Records visitor's details
Firstly, this reception module helps the admin staff greatly. The admin staff has to record the visitor's name, contact number, the purpose of visit to the school. And additionally the other details such as whom to meet, student's name along with visiting date and time. This will be served as a useful record for the management to know the number of visitors to the school, their basic details, and their purpose of visits.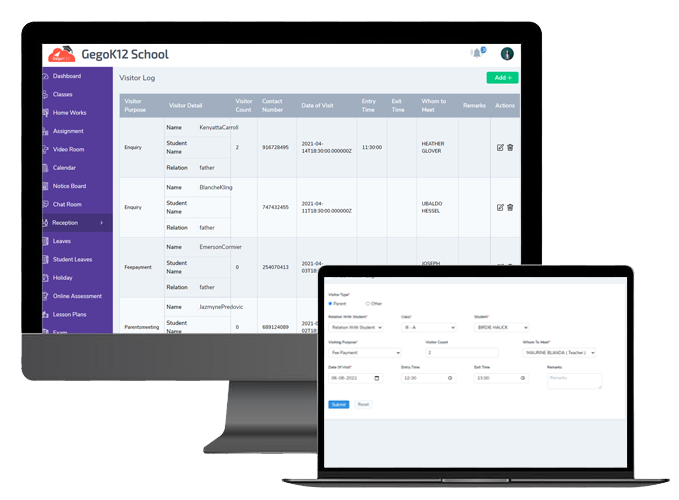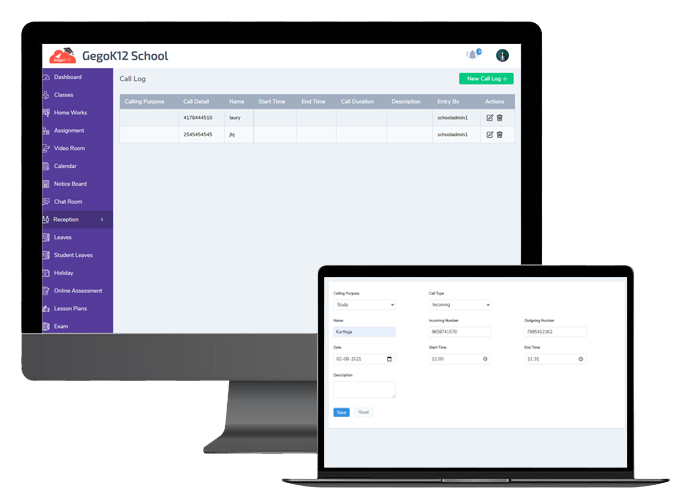 Records call log
Secondly, the important calls never get missed due to improper recording. Thus this module adds fields like Phone number, name of the person called and the purpose of the call. Moreover, it will list down by whom the details are been entered. This call log will be useful for any future reference. 
Records postal records
Thirdly, never leave a postal record unattended using the reception module from GegoK12. Postal records details can be entered for despatch or received post various details such as postal type, reference number etc. In addition to sender and receiver address, postal date and description, attachment is also added. Hence this module will be extremely useful to track the courier records.
Finally, the Reception module develops communication.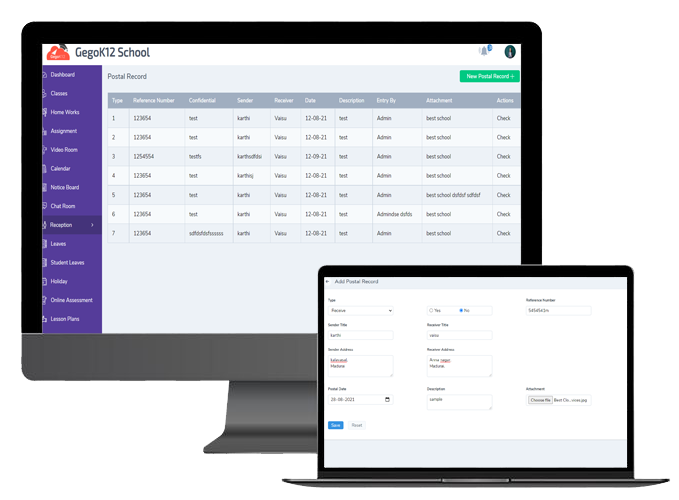 Ready to Upgrade Your School
Our friendly and experienced tech advisor will guide you on how to setup the School ERP System. The advisors will show you the demo of the software and answer all your questions. Book a demo session.