School Attendance Management
School Attendance Management
Gego K12 is a school management software that comes with a foolproof tool in tracking school attendance. This tool collects daily class attendance from each class and updates it to the parents via notification through the app. Thus, if a student is playing hooky or is missing from class, parents can immediately reach out to the concerned authorities
Leave Master
The leave master module is for denoting the attendance of the school staff and teachers. It denotes the name of the staff on leave, the type of leave, and the number of days on leave. The admin has the right to approve or disapprove of any staff and teacher's leave.
Attendance tracker
The attendance tracker keeps in track each student's attendance and sends notification to the parents every day regarding the student's attendance and absence. This gives both parents and the school an up-hand over the student's prompt and punctual presence in school.
The process of tracking attendance at schools has always been a difficult task. Teachers recognize that even when the students are constantly present, the effective discharge of their professional capabilities faces many problems. Tracking a school attendance is no simple task. Attendance data are often misleading and these have safety issues for parents and children. For example, if a student is missing or absent from school, parents and the school authorities can follow up with each other to know why the child is missing in the school and if he or she needs any assistant from supposed danger. In this method, the challenging part is consistency. Tracking attendance is mostly inconsistent when it comes between classrooms, and schools.
Teachers who are employed within the same school track attendance differently even with a proper attendance tracking system. Many teachers account attendance at the beginning of the class which makes tardiness as absence. Some teachers are not compliant with tracking the attendance specially when it comes with no motivation to do so. In some cases when teachers or other staffs are meeting the absent student during the class will fail to report the presence of the student in class. In order to tackle such inconsistencies, schools could establish a software for monitoring teacher's attendance tracking routine. Establish a proper school attendance tracking tool or device for effectively manage the attendance.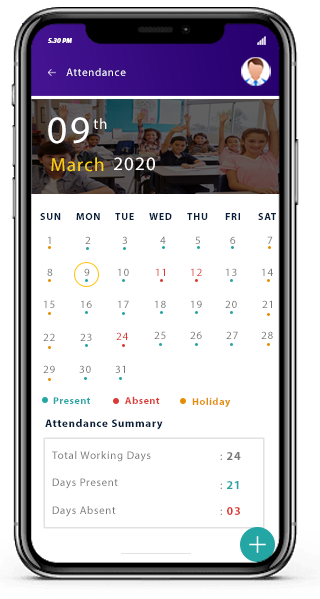 Kudos
When a student has hundred percent attendance in a year, his/her name and class will be displayed on the app for all to view. This is an attempt to inspire students to maintain a hundred percent attendance record.
Attendance
Through the attendance module, students will be able to apply for leave. They can apply for either the morning session or the afternoon session or the entire day by choosing the options in the module. This will display the total students in the class and the number of students who are absent.
Ready to Upgrade Your School
Our friendly and experienced tech advisor will guide you on how to setup the School ERP System. The advisors will show you the demo of the software and answer all your questions. Book a demo session.
GegoK12 - School Management Software - Usecases Served