The aim of the (NEP) 2020 is to make India a "world intelligence superpower." Due to the unprecedented coronavirus disease (Covid-19) outbreak, the new academic session will begin in September-October.
The goal of NEP 2020 is to recognize the importance of evaluating "higher-order skills" including imagination, critical thinking, problem-solving, visualization, and idea generation.
The NEP 2020 places a strong focus on multidisciplinary learning and makes no distinctions between vocational and academic streams.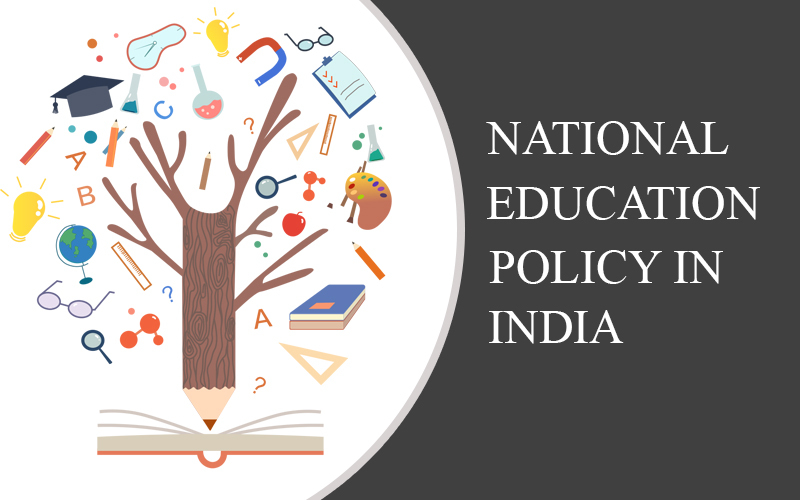 1.One of the most important elements of the New Education Policy 2020 is school education.
2.Examinations by the Board of Education and Examinations by the School
3.College Entrance Examinations and Higher Education.
School Education:
For students aged 3 to 8, 8 to 11, 11 to 14, and 14 to 18, the 10+2 curricular structure will be replaced by a 5+3+3+4 curricular structure. The new system would include twelve years of formal education and three years of Anganwadi (rural child care center) or pre-school education.
Examinations by the Board of Education and Examinations by the School
There will be only three levels of school exams: classes 3, 5, and 8. Formative evaluation can promote higher-order cognitive abilities, critical reasoning, and intellectual consistency.
Board exams will continue, but they will be more comprehensive. As a new national assessment center, PAREKH (Performance Evaluation, Review, and Analysis of Knowledge for Holistic Development) will be created. Board exams will have lower stakes.
All students will be entitled to take Board Exams on up to two occasions during any given school year, one for the main test and one for improvement, if necessary.
College Entrance Examination and Higher Education:
The National Testing Agency will conduct a standard college entrance exam twice a year. This will be implemented starting in the 2022 session.
A bachelor's degree will take four years to complete.
By 2040, all institutions of higher learning, including IITs, would be multidisciplinary. Students of science will learn more about the arts and humanities and vice versa.
Just a few of the world's top 100 universities will be granted special permission to operate in India.
Benefits of the New Education Policy for the Year 2020:
Some of the main benefits of the New Education Policy 2020 are as follows:
1. The New Education Policy would place a greater focus on student's practical skills rather than rote learning.
2. It will help students begin to build a scientific mentality at a young age.
3. The NEP aims to make it easier to create new high-quality, international-standard higher education institutions.
4. Many students who are unable to move abroad for a variety of reasons will be able to do so thanks to the NEP, which will enable foreign colleges to build campuses in the United States.
5. This will motivate you.
The National Education Policy (NEP) 2020 is a turning point in India's educational history. It will usher in a much-needed tectonic shift in educational structure, focusing on experiential and practical learning to teach children 21st-century skills.