School Event Management software
Modernize your School Calendar 
Creating events, notifying the parents and stakeholders and maintaining the photo galley of the event is made simple in GegoK12 – School ERP
School Calendar System with Modern Approch
The modern day schools celebrate the studentschool life and focuses on making it a memorial one. Events in schools needs good planning and scheduling, so that it  create good Memories. A good School Event Management System is the need for modern schools. It is time to take a modern approch towards the School Calendar System. With GegoK12 – School Management Software, the school event creation and event information publishing is simplified. Now it is easy to maintain the school event schedule and publish school event photo galleries.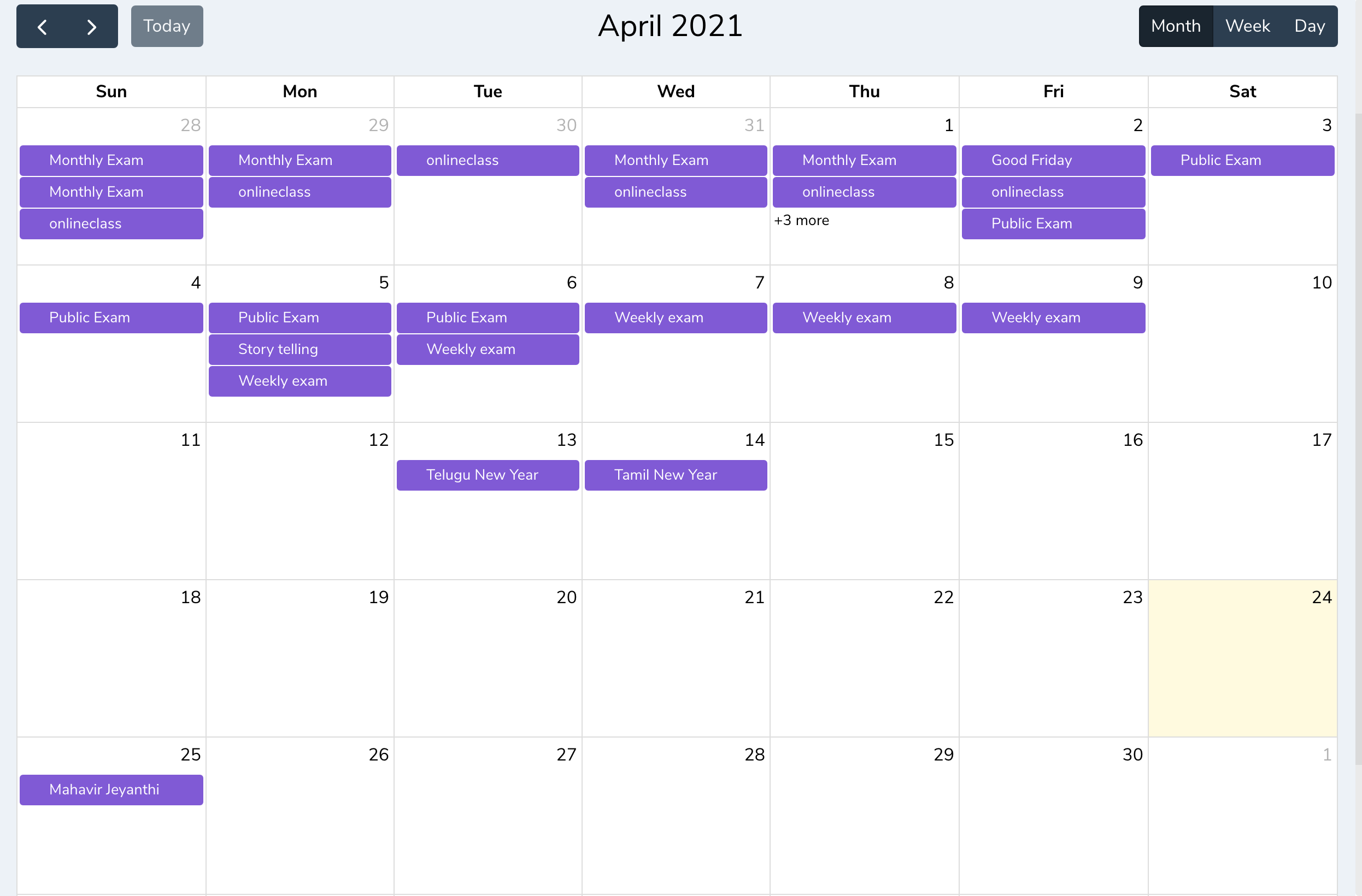 School Academic Calendar
School academic calendar is slighly different from regaular calendar. It need to align with holidays, curriculam, exams, school events, and student's school life.
List of Holidays
Communicating the list of school holidays is a key requirement. Admin can create and maintai the list of holidays. Parents can access the list of holidays from Mobile app.
School Events
Through web admin control panel, the administrator can create an event. Event can be scoped for full school, or for a specfic Class – Section. 
Classroom Specific Events
The software allows to create classroom specific events like Online Classes, Class Tests, and any other class events. Event info auto updated to parents vial mobile app.
Exam as Events
Exam days also synced with the school calendar. It helps the parents to see the upcoming exams and plan the preparation. It also includes class tests.
Event Gallery
Cultural events, Sports events, Talent competions,  and important Parent – Teacher Association meetings Photos can be shared with Event Photo Gallery system.
Mobile App Sync
The calendar info is set to sync with Mobile App. It makes easy to follow-up and set needful reminders.
Day, Week, Month View
The calendar is designed with Day, Week and Month view for easy access and better user experience.
School Website Design
Are you looking for professional school web design and development services. GegoSoft is a full house web and mobile app development company based in Madurai.  Contact us for quote & free samples for your school website.
Referral Program
Are you associated with the Educational industry as a partner or vendor?
Are you a supplier of books and / or equipment for schools, colleges and universities?
Ready to Upgrade Your School
Our friendly and experienced tech advisor will guide you on how to setup the School ERP System. The advisors will show you the demo of the software and answer all your questions. Book a demo session.
GegoK12 - School Management Software - Usecases Served