Elevate students' learning using lesson plan module
 The preparation of a lesson plan is the teacher's first step to teaching. A well set and organized Lp will guide teachers to optimize student learning goals. The lesson plan module available with GegoK12 can be used at ease. The teachers can prepare their lesson plans from home without any difficulty. Rather than carrying a heap of papers to monitor their exercises, the utilization of GegoK12 will profit them making the work simpler and more helpful to utilize and get to. This lesson plan module will be realistic and it will be adaptable to the learner's needs.
Exercise Planning is a fundamental cycle by which an organized arrangement can be laid out for Students of different abilities. This requires representation of the coming week's arrangement and timetable for the ideal conveyance of talks to the students. This will require a ton of time and exertion from the educator's end.
Educators can recognize the learning targets, plan the learning succession for each subject which they instruct in the particular Classes, and survey the themes for every exercise. Educators can settle on their timetable and choose a Start date for every subject alongside the number of talks needed to achieve that objective
Importance of lesson Plan
Guides teachers to execute the class
Increases the flexibility
Boosts the quality of the plans
Directs towards the learning goals
Benefits of lesson plan module
Preplanning of Syllabus
The teachers can pre-plan their syllabus for better outcomes. Lesson plans can be created unit-wise for every topic. Weekly plans are more advisable for effective planning. Targets can be effectively accomplished to achieve the best result from the teacher's end.
Helps to tracks syllabus
The teachers can have a check on the portions completed in their mobile app. This makes teachers have a run-through on the portions yet to be completed. Additionally, the teachers can monitor the students based on the learning outcome. Moreover, the lesson plan will greatly help students and teachers to be o track without deviation.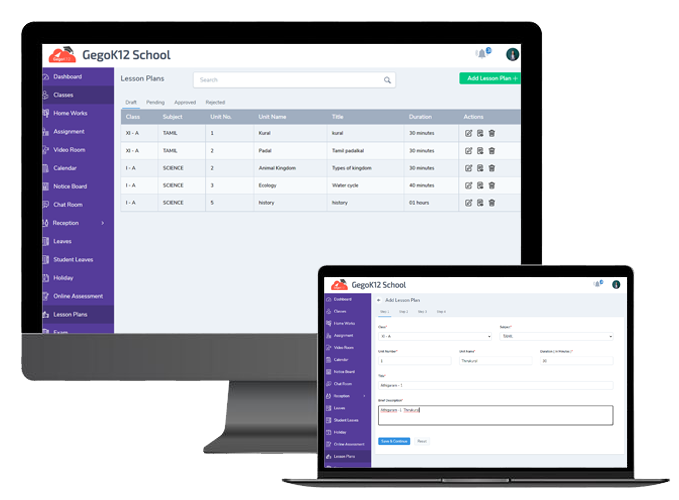 Homework and classroom management
To find out the learner's outcome it is the responsibility of the teacher to schedule the classwork and homework accordingly. However, the teacher can check if the homework coincides with classwork just in their mobile app.
Save quality time for productive work
The greatest advantage of the lesson plan module is record keeping. The teachers can refer to their old lesson plans any time with few clicks. This makes teachers save more time and use their time productively on the scheduled agenda
Ready to Upgrade Your School
Our friendly and experienced tech advisor will guide you on how to setup the School ERP System. The advisors will show you the demo of the software and answer all your questions. Book a demo session.